Sale Information

Spring Bull & Select Female Sale
Monday April 6, 2020 at 1:30
Held at the Farm

CATALOG NOW ONLINE!

SALE UPDATE SHEET

Sale broadcast online by Livestock Media+

Welcome to Eastondale Angus
Highlights & Upcoming Events
Spring Bull Sale
April 6 2020 1:30 pm cst
VIEW VIDEOS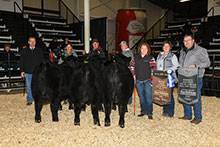 These bulls sell April 6th in our spring bull sale!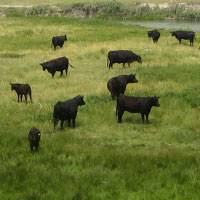 Find out more about our cattle breeding program.

Find us on Facebook.
We would like to take this opportunity to give you a little background about our history and program. Angus cattle have been a part of this family for over 60 years with my father and grandfather both raising black cattle under the Kenwaw farm name. Twenty five years ago, Shelly and I started Eastondale Angus. We now run 150 purebred black cows and breed 180 head annually on a land base of 1600 acres.
We have moved to less A.I. but still do some using Black Angus sires who are chosen on both phenotype and must also have a well balanced set of EPD'S with higher accuracies. But we have tried to search out the best walking bulls we can, to try to get a more consistent end product that both ourselves and our customers will be happy with. We believe in a middle of the road approach we do not seek genetics of the extremes but feel if we stay down the center we and the people who might use our genetics will be better to adapt to change as it approaches us.
We show cattle annually at Agribition. Our philosophy is a little different. Winning a class is great, but is not a high priority for us. We aim to have our cattle looking honest and real world in the barns and take time at shows to meet with past, present and future customers. We enjoy discussing our program, and hearing about others. Please stop by our stall and visit or if you are in our area at home please stop in for a coffee and see the whole program, we will be glad you did!
In 2008, an exciting change in our program was made. After marketing our bulls with a group for 20 plus years, we now hold our own Eastondale Angus Bull Sale offering Angus bulls only from our own program. The decision to have our own bull sale was made to better serve our customers. Our dedication to quality of service to our bull buyers, and the passion to produce the highest quality Black Angus seedstock that will work in our environment continues to increase with our new bull sale. Angus bull buyers - please check out our bull development program and data section for more info!
Everyday is OPEN HOUSE DAY here. We would love to have you visit and show you what we have to offer.Thank you for taking the time to examine our program. We appreciate it! Whether its selecting and delivering animals, or simply discussing the success of the breed in todays beef industry, we are always eager to help. We encourage you to challenge your cow herd. Make them work for you and enjoy the bright future that our beef industry has to offer. Remember that the bulls and females you purchase today will influence the success of your operation for many years to come.
Eastondale has taken a lot of the guess work out of buying quality livestock, providing a great deal of performance data to go with them to the pasture. Thank you for taking the time to examine our program. We appreciate it.
Dale, Shelly and Erika