Eastondale Angus Bull Development Program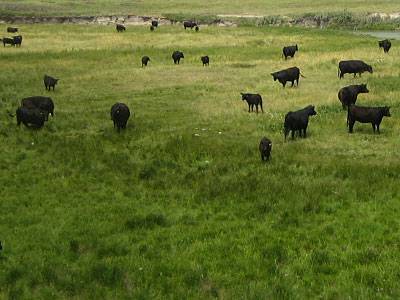 Cattle gazing in the fields - Wawota, Saskatchewan
As of now only approx 50% of our male calves born make it to be offered for sale thus showing the strict culling we do to weed out the bulls we do not feel can add to an advancement in the beef industry and both yours and our bottom lines! We do not creep feed and do not believe in creep feeding as we feel it only hides the things we are trying to improve. we feel we need cattle that can perform on their own with only the grass we can produce being their diet. We need to find those cows that cannot raise a first cut calf , how can one find that out with a creep feeder in the pasture?
The calves are all vaccinated on the Pfizer gold program before they go to grass and again three weeks before weaning. Weaning will take place approximately October 1st. We use the quiet wean nose tags for the past number of years and have had great success with a stress free healthy weaning period.
We have been enrolled in the Canadian Angus Associations performance program as long as it has been in existence so 205 day and 365 day weights as well as in herd indexes are calculated. Bulls will be developed on a dry ration geared to a 3 lb. a day gain. We feel this is not harsh enough to hurt the bull in any way for his future years as a breeding bull but yet we can identify the bulls that can take it to the next level with performance and will in turn pass this attribute on in his offspring for you to capture.
Bulls will be weighed monthly after weaning and data will be posted shortly after each weighing. We also have been for the last 13 years and will continue to ultrasound our bulls with the CUP carcass evaluation to see where our genetics stand in that aspect of the industry.
The bulls will of course also be fertility tested and only sold with a satisfactory examination. We will stand behind our product 100%